Read chapter one of Ready, Set, Married
Read chapter one of Ready, Set, Married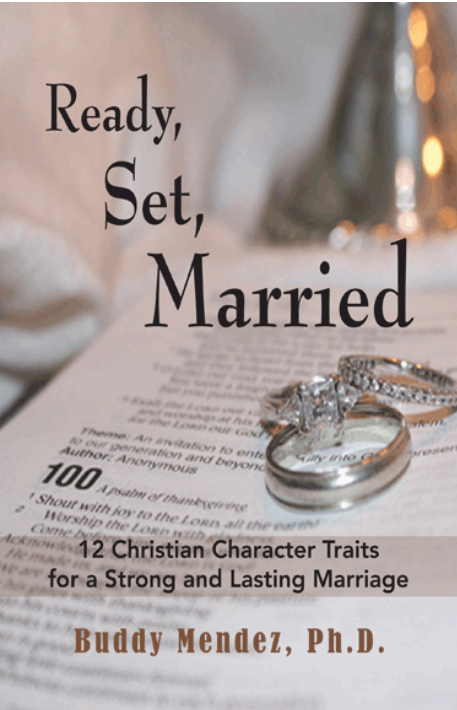 Ready, Set, Married isn't your typical book on marriage, simply full of good ideas and advice.Instead, the author has drawn on years of counseling couples through countless obstacles, personal traumas and seemingly insurmountable relationship crises. Dr. Buddy Mendez is not just a professor of psychology at Concordia University, Irvine, but he is also a clinical psychologist with a private practice specializing in the integration of Christianity and psychology. 
We are grateful to Dr. Mendez for sharing the first chapter of Ready, Set, Married with our readers, entitled "Commitment." We pray that it offers you insight and inspiration as you endeavor to remain committed to your spouse:
---
"Guard yourself in your spirit, and do not break faith with the wife of your youth." (Malachi 2:15b)
"What God has joined together let man not separate." (Matthew 19:6)
The simple teaching of the Bible is this, "Once married, always married." This perspective is quite different than the secular view of marriage that says, "I will stay married to you as long as I feel I am in love with you." The problem with the latter approach to marriage is that it is perfectly normal in the course of any marriage to not "feel" in love with your spouse. As an engaged couple, this may be hard to comprehend. However, if you ask any couple who has been married for longer than five years they will tell you that feelings wax and wane throughout the course of marriage.
Therefore, the decision to remain in marriage should never be based on one's feelings. Instead, as Christians, we are called to choose to love our spouse in the same unconditional manner that Christ has chosen to love us. The Bible confirms the validity of this approach in 1 Corinthians 13:4-7 where love is beautifully described as volitional as opposed to emotional.
Love is patient, love is kind. It does not envy, it does not boast, it is not proud. It is not rude, it is not self-seeking, it is not easily angered, it keeps no record of wrongs. Love does not delight in evil but rejoices with the truth. It always protects, always trusts, always hopes, always perseveres.
Although feelings of love are enjoyable and desirable, they are not a necessary condition for love to exist. When feelings of love fade, couples need not panic. Rather, they should see these times as opportunities to extend love through actions until loving feelings inevitably return. This can only be done as couples make a commitment to love one another in spite of how they may feel at any particular moment and regardless of how their spouses respond to their gestures of love.
Contemporary research findings support the notion that couples who stay committed through the tough times can regain the happiness they once had. In a longitudinal study reported by The Institute for American Values, researchers found that of 645 unhappy spouses, two out of three who chose not to divorce or separate ended up happily married five years later (Waite, Browning, Doherty, Gallagher, Luo, & Stanley, 2002).
What is Christian Commitment?
From a Christian perspective there are three types of commitment that strengthen marriages. They are (1) Commitment to God, (2) Commitment to one's spouse, and (3) Commitment to the welfare of the marriage.
Commitment to God
The first and most important commitment is to God. As Christians, our chief purpose is to glorify God with our lives. Romans 12:1-2 states:
Therefore, I urge you, brothers, in view of God's mercy, to offer your bodies as living sacrifices, holy and pleasing to God—this is your spiritual act of worship. Do not conform any longer to the pattern of this world, but be transformed by the renewing of your mind. Then you will be able to test and approve what God's will is his good, pleasing and perfect will.
Ephesians 5:17-20 offers further guidance on the God's will:
Therefore do not be foolish, but understand what the Lord's will is. Do not get drunk on wine, which leads to debauchery. Instead be filled with the Spirit. Speak to one another with psalms, hymns and spiritual songs. Sing and make music in your heart to the Lord, always giving thanks to God the Father for everything, in the name of our Lord Jesus Christ.
Our commitment to God is a decision to be filled with the Holy Spirit, as we confess our sins, receive His grace and are empowered to bear the fruits of the spirit outlined in Galatians 5:22: "But the fruit of the Spirit is love, joy, peace, patience, kindness, goodness, faithfulness, gentleness, and self-control."
Commitment to our spouse
Our second commitment is to our spouse. Ephesians 5:21-27 gives us guidance regarding our commitment to each other:
Submit to one another, out of reverence for Christ. Wives, submit to your husbands as to the Lord. For the husband is the head of the wife as Christ is the head of the church, his body, of which he is the Savior. Now as the church submits to Christ, so also wives should submit to their husbands in everything. Husbands, love your wives, just as Christ loved the church and gave himself up for her to make her holy, cleansing her by the washing with water through the word, and to present her to himself as a radiant church, without stain or wrinkle or any other blemish, but holy and blameless."
It is important to note that this passage does not support or encourage men to dominate or exert unfair control over their wives. In Ephesians 5:21 each spouse is encouraged to "submit to one another." Christ loved the Church through humility, sacrifice, and service. Thus, husbands ought to exercise their leadership in the home in the same manner. This passage can be summarized by another passage from Galations 5:13: "Do not use your freedom to indulge the sinful nature; rather serve one another in love." Our commitment to serving each other is never easy because of our sinful and selfish nature. It is not the first thing that will come to our minds but it is the best way to maintain a loving relationship.
Commitment to the marriage
Our third commitment is to the marriage. This type of commitment is described as "personal dedication" by authors, Stanley, Trathen, McCain and Bryan (1998) in their book, "A Lasting Promise: A Christian Guide to Fighting for Your Marriage." According to these authors, personal dedication is comprised of the following five characteristics:
Desiring the long-term: This refers to a couple's wish for the relationship to work out over the long term. As my former professor Dr. Richard Hunt once told me, "There is no escape hatch in a Christian marriage." In other words, when Christian couples encounter problems they don't contemplate leaving, but rather focus on finding solutions and making necessary behavioral changes. Husbands and wives who refuse to leave when the going gets tough are rewarded with character growth.
The priority of the relationship: The relationship is given top priority over work, children, parents, money and even ministry. One of the things I am constantly battling in my work with couples is their tendency to attend to other matters of life before they attend to their marriage. The most common dynamics I see are husbands prioritizing work over marriage and wives prioritizing children over husbands. Often, couples are just too tired to interact with each other in any meaningful way because they have expended their energy attending to less important matters throughout the day. By the time these couples are ready to focus on each other, all they can think about is sleep.
We-ness: This refers to the degree to which each spouse views their relationship as two individuals working together for the sake of one team. In my private practice, I often exhort couples to come to a "we" decision rather than settle for a "you" or an "I" decision. This helps them to resolve conflicts and solve problems. It also leads to a sense of equal participation and fairness in the relationship. Arriving at a "we" decision or solution requires a relinquishing of one's personal freedom. Each spouse can no longer choose to live life on their own terms. I often gently remind couples that the decision to marry is also a decision to give up a degree of personal autonomy. However, I also remind them that the joys of "oneness" far outweigh the costs. Psychological research supports the benefits of "we-ness." Studies have shown that satisfied couples enjoy working together as a team because they realize that what is good for the team is ultimately best for them as individuals (Stanley et.al, 1998).
Satisfaction with sacrifice: This refers to our willingness to extend personal resources such as time, energy, and effort for the sake of the relationship. I often share with couples that marriages are like fruit trees. They need to be nourished and cared for in order to mature and produce good fruit. If a fruit tree is left alone it will slowly whither, produce less fruit each successive season and eventually die. Couples benefit from making the sacrifices that are necessary to give their relationship the water, sunlight, warmth and rich soil it needs to produce a bountiful harvest.
Alternative monitoring: This pertains to our ability to resist serious consideration of alternative partners. This may involve excessive flirting, indulging in mental fantasies with other people, or even pushing the limits of a platonic friendship. Jesus warns us to resist these temptations. He says, "You have heard that it was said, `do not commit adultery.' But I tell you that anyone who looks at a woman lustfully has already committed adultery with her in his heart (Matthew 5:27, 28)." There is nothing more damaging to a relationship than infidelity, regardless of whether it exists in our behavior or in our hearts. I have seen too many marriages devastated by the consequences of infidelity. The rupture of trust in these cases is a deep and in some cases fatal wound to the marriage.
The good news is that Jesus can help us resist the temptations that the enemy inevitably throws our way. The word of God tells us that God's peace can "guard our hearts and our minds in Christ Jesus (Philippians 4:7)." God wants to protect us from the deceptive schemes of the devil. Paul reminds us in his letter to the Corinthians that: "No temptation has seized you except what is common to man. And God is faithful; he will not let you be tempted beyond what you can bear. But when you are tempted, he will also provide a way out so that you can stand up under it (1 Corinthians 10:13)." We must rely on the Holy Spirit to guide us away from temptations and toward His plan and purpose for our marriage.